when he was only 12



COSTES INVENTED BONDAGE !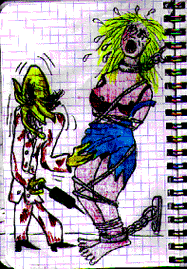 Professor BigDirt, yelling like a devil, ripped off Eva's clothes, shaking harder and harder his big syringe full with a weird fluid. And Eva cried a lot because she was so frightened!

Le docteur GrosSale arracha les habits d'Eva en poussant des cris de demon, agitant de plus en plus sa grosse piqure pleine de liquide bizarre.
Et Eva pleurait beaucoup car elle avait tres peur!



http://costes.org - 1999